City Centre Park is Langford's "everything" active entertainment zone, designed and coordinated by the City's own Parks Department
The Eagle Ridge Community Centre, built in 2005, contains Vancouver Island's only year-round dedicated dry floor arena. It is used primarily for indoor soccer, ball hockey, lacrosse, inline hockey, and various other sports. Measuring 190′ long by 85′ wide, this facility is also commonly used for trade shows, concerts, and other large functions. The Eagle Ridge Community Centre is used by School District 62 during school hours at no cost and provides the community with free events annually. The Eagle Ridge Community Centre is the main reception for City Centre Park.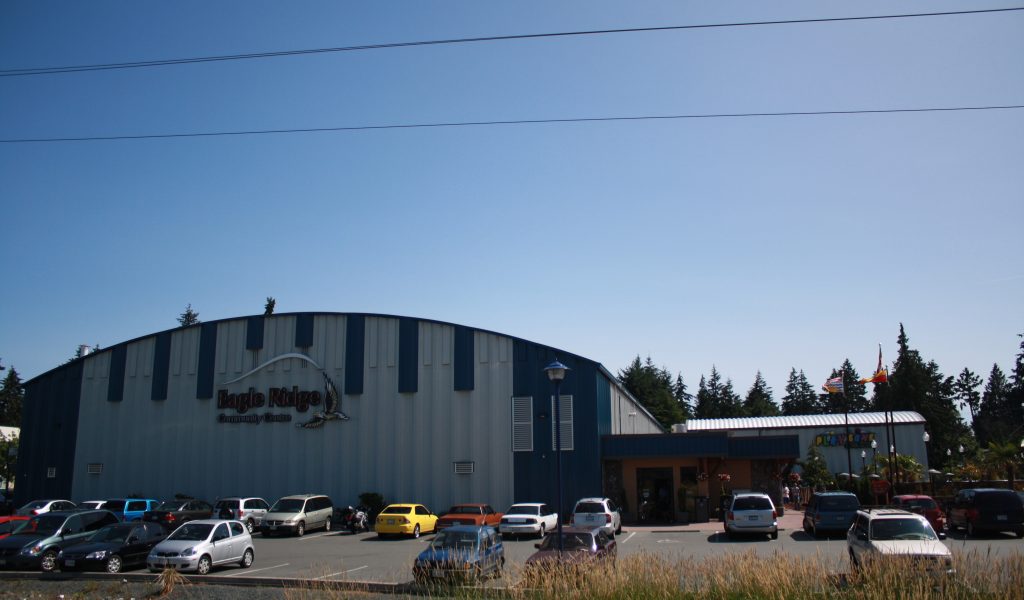 Langford Lanes and City Centre Grille are the newest additions to City Centre Park. Langford Lanes features 6 VIP lanes and 14 Standard lanes for ten-pin bowling. Our City Centre Grille is a sports bar located left inside the bowling alley and features pub fare and a great atmosphere. Both facilities are fully licensed for beverage services.
Feel free to check out our City Centre Grille Website for features, specials, and our menus
Having opened in October 2011, Westhills Arena is a state-of-the-art NHL-sized ice arena featuring an ice river leading to an outdoor skating pond in the winter season! Our arena is ultra efficient and designed with a 100% heat-capture system for self-use and sharing amongst neighbouring homes. Home to minor hockey teams, hockey academies, and various other ice sports, this facility is used by all ages.
City Centre Park is the home of two state of the art artificial turf fields. The first is Starlight Stadium, a 6000-seat stadium featuring 18 luxury boxes and food services. It is the home of Rugby Canada's National Program, the Westshore Rebels of the CJFL and the new Pacific FC Soccer Team. The Stadium is built to FIFA 2 Star Rated and IRB specifications.
Goudy Field has a field house and is lined for soccer, football, rugby, and includes two baseball diamonds. It is the home of our City Centre Park Slo-Pitch League, as well as JDF Soccer, who enroll teams ranging from U-6 and up.
"Discover the Fun" playing Mini-Golf through an 18-hole course of pirates, Aztec ruins, and buried treasure. Little kids can then climb and crawl through the Gold Rush-themed PlayZone, the biggest and brightest indoor playground on southern Vancouver Island. For adults, there are leather couches, coffee and magazines to relax with while the kids race through the "mines" of PlayZone. We offer many different party package options and add on's, have your child's birthday party at City Centre Park!
The Splash Park is generally open from May long weekend until Labour Day offering a FREE activity for Langford families to enjoy in the sun with their children, however it will not be open this year due to COVID. The Splash area has now been changed into an Outdoor Patio area offering bar and food services, as well as various activities. With refrigeration below, this facility converts to an Outdoor Ice Pond in December with an ice river into the ice arena to skate along!
Disclaimer: Information noted on this site is subject to change without notice. Guests are encouraged to contact us to confirm all details to ensure a great experience. Prices shown do not include tax unless otherwise indicated. Information submitted may not be confidential.